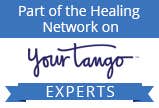 Jackie van der Velde, B.A. C. Ht. 
340-642-4522 – Jackie.delamar@yahoo.com
Sacred Journeys was birthed in 2012 as a container for doing hypnotherapy sessions.  Since then, my sessions have evolved into more integrative sessions that explore what is being held and locked into the body, mind, spirit, and energy body.  Through Hypnotherapy, Energetic Healing, as well as my own intuitive  capacities, I facilitate freedom sessions that are highly effective in releasing limitations and open new possibilities for my clients.  It is a great honor to create such sacred space and to be part of truly miraculous transformations.
I have been honored to assist my clients overcome a variety of challenges such as, anxiety, physical pain, seizures, depression, loss of purpose, physical transformation through weight loss, addictions, and more.  I am more than confident that if you feel drawn to work with me, then you will also find great success in overcoming whatever challenges you are facing and will step into a more confident version of yourself.
My Background
I feel like I have been doing healing work since I was little, but I guess it officially started as a Crisis Hotline Counselor in 1995, then I became a Spiritual Counselor , Worship Leader and head of  Women's Ministries at the Virginia Beach Vineyard Church, where I moved in prophetic and healing gifts.   I ask Creator, the Angels, and other loving energies to contribute to healing to our bodies, and greater awareness of our Divine Essence, which always allows for a greater perspective.
I graduated from South Puget Sound Community College with a Liberal Arts degree with an emphasis in Pre-Nursing. During the first quarter of the nursing program, I found myself conflicted about the use of medications in western medicine. Not that there isn't a place for medication, but the over emphasis on pharmaceuticals really bothered me. I didn't want to push medications, which mostly mask symptoms, I desired to find the root of illness and help people get well.
Through a turn of events in my own family, I ended up not completing nursing school. My daughter came home for Thanksgiving break stating she was experiencing vertigo and having trouble seeing. Upon immediate investigation, we discovered she had two cancerous lesions in her brain.  Neither of us returned to school that year. Instead, we started a very intense journey of our own  – balancing chemotherapy with alternative modalities of prayer and hands on healing.  After 6 months of therapy she was in remission. That was in April 2011.
One year later, I enrolled into the Mind/Body Medicine Program at Evergreen State College, where I found a more holistic approach towards health and wellness. During my time at Evergreen State College, I studied several modalities which treat the emotional body, mental body, energetic body, as well as the physical body.
At this time my sessions are done via telephone. Sessions are by appointment only – please connect with me to schedule.
To schedule a session, please connect with me on Facebook and we can chat with Facebook Messenger or contact me by email at Jackie.delamar@yahoo.com.
Thank you for your interest in Sacred Journeys – I look forward to hearing from you!
Much Love  ~<3~
Jackie